Consultants moving into Product Management
I connected with an MBA candidate with a management consulting background who wanted to get into Product Management. It's unfortunate but the first thing that came to mind was the subtitle of the book "House of Lies." After I chuckled for a bit, I got back to the topic at hand.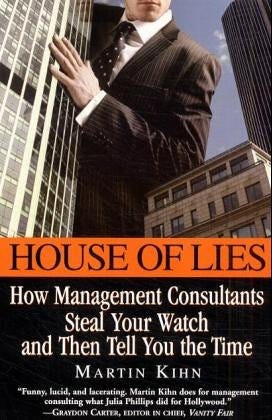 House of Lies
After probing to better understand his background and motivations, it was clear that he'd have an uphill climb for a variety of reasons.
Background
The consulting was focused on digital transformation (Admittedly, I don't know what that actually means).

His output was reports and presentations on how the company could transform but there was no execution.

He did not have experience in development or working with developers.

What he liked most about product management was defining strategy...

He's working on his *cough cough* MBA...
There are three potential paths to get in:
Find an industry that he learned most about especially during his consulting days and position himself as an expert.

Try some side hustles where he can get experience bringing products to market, working with developers, and analyzing results.

Get the skills to start at the bottom in a target company or industry. The role may be customer support or software implementations.
If you're interested in getting into product management, with background described, be prepared to take an indirect route but hope for some luck. As the saying goes, the harder you work, the luckier you get.